What We Do – Cost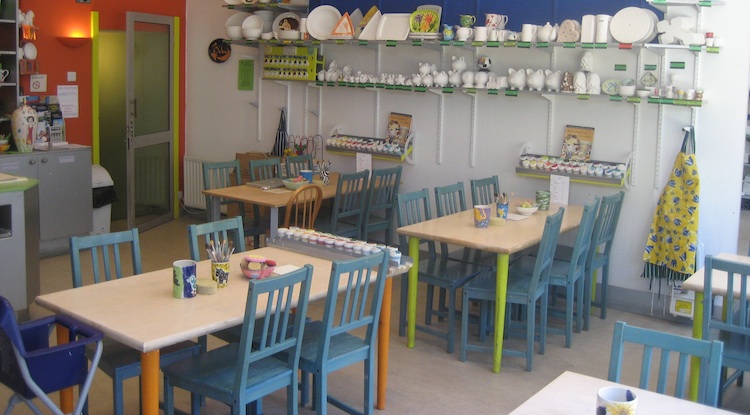 Wondering how we do things at the Ceramics Café? Don't worry this page explains it all.
We are living in a world where individual expression is encouraged, but mass consumerism dictates what we buy, where we go and how we spend our leisure time. The Ceramics Café offers you the opportunity to create something that is uniquely yours. Starting with a plain white blank (bisque) shape, you paint on your design using ceramic paints (underglazes), we fire it for you in the kiln, and your piece is ready for collection within 2-4 days. See each studios' individual page for their firing schedules.
Painting ceramics appeals to both adults and children alike. Come along on your own, with your family, get together with a group of friends or organise your next party with the Ceramics Café. There is no minimum or maximum age restriction. If you can pick up a brush you are welcome to visit the studios.
£2.00 per decorator plus the In-Studio cost of the items painted.
Typical In-Studio costs range from £10.00 to £25.00 per item.
The £2.00 session fee covers the use of the studio for up to two hours. The In-Studio cost covers the bisque (blank) item being painted, use of the OPUS underglaze colours, glazing and firing your finished masterpiece(s). Finished items are ideal to keep for use at home or giving away as gifts. Christmas is one of our busiest times where the majority of items painted are given away to family and friends. All finished items are suitable for use with food.
A visit to one of our Ceramics Café studios need not cost the earth. We operate a very reasonable session fee of £2.00 per decorator with no charge for supervising adults. Each session lasts up to two hours. Online booking is available for all studios. Visit the individual studio page to access the booking form. Sessions start on the hours or half hour with a maximum duration of two hours.
All bookings in the studio are up to 2 hours long. You do not need to stay the full 2 hours, but we shall allocate this length of time as it often takes longer than you think to create your masterpiece. Bookings start on the hour or half hour. Items not finished during your session can be left in our work-in-progress area for completion during a second session. The £2.00 session will be payable on your return visit but you have already paid for the paints, glazing and kiln firing.
Parties of all kinds take place at a Ceramics Café. This is not just a location for kids parties, however these are extremely popular. Kids party requests can be sent via the Kids Party Deal tab located on each studios individual pages. Kids party deals vary between studios.
Adult birthday parties, hen parties, work parties can be booked at each studio. Mums and baby groups often book a morning session to create personalised hand and foot print memories of their babies.For adult groups of less than 10 you are welcome to book via each individual studios booking form. For groups over 10 we ask you to call and discuss your requirements directly with the studio staff. Contact telephone numbers are shown on each studios individual web page. See studio locations above.
Select the studio you would like to host the party and navigate to the Kids Party Deal tab.